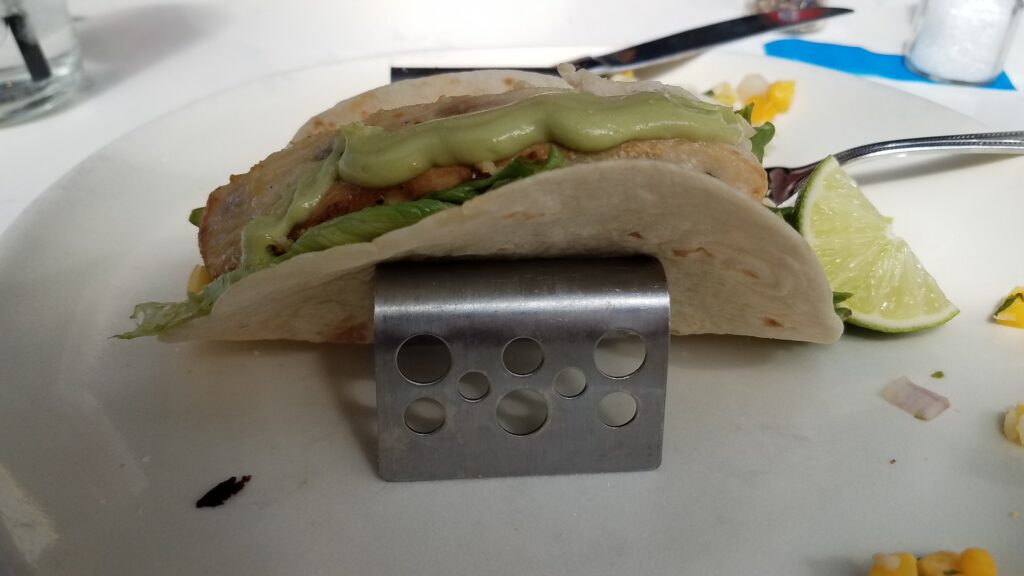 What the heck is a Tacosaurus you may ask? Well, it is a word that I overheard a child use in a Mexican restaurant the other day and it means someone who loves all tacos. You can put pretty much anything in a taco and still have it be really great, so I thought I would make a couple of suggestions for those among us who are not yet in to the joys of taco life!
Use any kind or size tortilla-flour, corn, spinach, herb, etc. Large or small makes no difference. Some purists may call a taco made with a big tortilla a burrito, but it is NOT. If you fold the tortilla in half instead of doing any sort of wrap, it is a TACO! Also soft tacos are not fried and crispy tacos are.
I always start with lettuce, chopped tomato, and grated cheese. I like cheddar, but any kind will do.
Beans are a must-Refried, vegetarian or regular, the difference being that regular are made with lard and vegetarian are not. Black beans are good, and so are kidney beans. Pinto beans work too.
Now for the fun-your favorite fillings. I love shrimp, any kind of fish, soy ground beef, or QUORN shredded chicken. I also really like deviled egg filling. Non-veg people love ground beef, steak, chicken, pulled pork, and chopped ham.
The most outrageous taco I ever saw had pork and beans and chopped hot dogs. Anyway, you get the idea, right. Make it yummy and customize to taste-Be creative!
PS Don't forget guacamole on top!